Review: Autumn Republic
I've decided to try something new instead of just traditional reviews where I ramble forever. I'll still do some longer reviews, but this way I don't feel bad when I just want to write down a few thoughts and who I'd recommend it for.
I've made an S&S Sci-fi and Fantasy Card that I'll use to rate different aspects of SFF books that are important to me: characters, worldbuilding, and that extra "oomph" factor that I'm calling originality because it sounds more official than "oomph" :)
So here goes!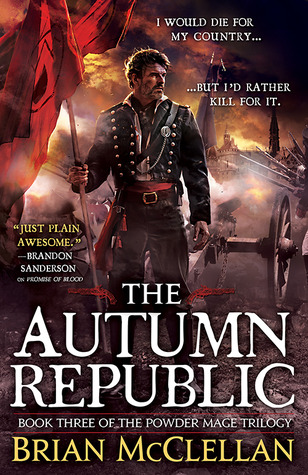 Title:
The Autumn Republic
Author:
Brian McClellan
Genre: Fantasy
My rating:
4 of 5 stars
Goodreads Summary:
The capital has fallen...
Field Marshal Tamas returns to his beloved country to find that for the first time in history, the capital city of Adro lies in the hands of a foreign invader. His son is missing, his allies are indistinguishable from his foes, and reinforcements are several weeks away.
An army divided...
With the Kez still bearing down upon them and without clear leadership, the Adran army has turned against itself. Inspector Adamat is drawn into the very heart of this new mutiny with promises of finding his kidnapped son.
All hope rests with one...
And Taniel Two-shot, hunted by men he once thought his friends, must safeguard the only chance Adro has of getting through this war without being destroyed...
THE AUTUMN REPUBLIC is the epic conclusion that began with Promise of Blood and The Crimson Campaign.
530 pages in two days...that has to be a record for me! It was nearly impossible to put this book down, and I thought it was a great ending to an awesome trilogy. I absolutely love how this series incorporates technology and culture outside of the usual medieval-based fantasy. The spirit of the French Revolution shines in all its bloody glory! I also really like that there are multiple magic systems and ways powers can interact with one another. It's a very cool series, and this book is especially interesting since it makes even more interesting revelations about the mythology of this world.
My only complaint is that after so much complexity and political maneuvering, the resolution was rather abrupt and I would have liked to see more of how Adro picks up the pieces after the power struggle between gods and mortals. I also want to know what makes Nila special, since we don't ever find out
why
she can do the things she can do (unless I forgot it from book 2).
How do you like the new review style? Have you read any of the Powder Mage trilogy? Any other recommendations for non-medieval fantasy?