ARC Review: And I Darken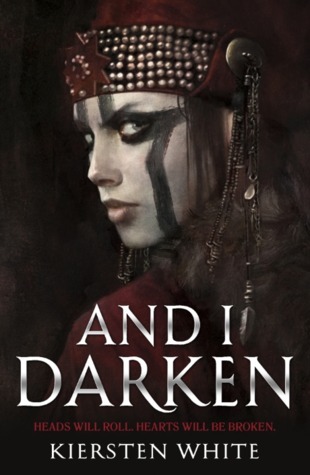 Title:
And I Darken
Author:
Kiersten White
Genre: Historical fiction
My rating:
4.5 of 5 stars
Goodreads Summary:
No one expects a princess to be brutal. And Lada Dragwyla likes it that way.
Ever since she and her brother were abandoned by their father to be raised in the Ottoman sultan's courts, Lada has known that ruthlessness is the key to survival. For the lineage that makes her and her brother special also makes them targets.
Lada hones her skills as a warrior as she nurtures plans to wreak revenge on the empire that holds her captive. Then she and Radu meet the sultan's son, Mehmed, and everything changes. Now Mehmed unwittingly stands between Lada and Radu as they transform from siblings to rivals, and the ties of love and loyalty that bind them together are stretched to breaking point.
The first of an epic new trilogy starring the ultimate anti-princess who does not have a gentle heart. Lada knows how to wield a sword, and she'll stop at nothing to keep herself and her brother alive.
I really enjoyed this book! It was a fascinating period of history, richly described with unique and captivating characters.
I think the best historical fiction is the kind that makes you fall in love with a certain time period or figure in history and want to learn more about them. This book certainly fits that description! I knew absolutely nothing about the Ottoman Empire when I started this book. In fact, the only other place I'd encountered it was the Tintin comic!
Even though Kiersten White is known for her light-hearted Paranormalcy series,
this book is by no means a light read.
White takes you deep into the nitty gritty of European and Ottoman politics, complete with brutal punishments, assassinations, betrayal, political and personal manipulation, and very tangled, ugly love stories. There's one line of the book description that sums up this book remarkably well:
"Together, Lada, Radu, and Mehmed form a toxic triangle that strains the bonds of love and loyalty to the breaking point. "
The three of them form a seemingly unbreakable friendship as children, but as they grow older, nothing is as pure or simple as it seems.
I've heard some comparison of this book to Game of Thrones, and I think that is at least partially valid in terms of how dark and twisted almost all the characters are. There's also a sense of vast scope with so many battles and political players. The one thing I would say is that this book isn't nearly as convoluted as Game of Thrones, and has quite a tightly-written plot despite all the political machinations going on behind the scenes. And of course, I care about the characters in this book far more than I ever did with those of Game of Thrones.
Lada is no stereotypical princess. She is ugly, unrefined, foul-mouthed, and cunning; she is completely unafraid to speak her mind no matter how dangerous the consequences. She's all tooth and claws, both in terms of how she physically wrestles people who try to put her or her brother down, and how she tends to push people away with that sharp tongue of hers. Radu is her soft-spoken little brother, and at first she finds him pathetic. He's small for his age and quiet, and there's no way he would win a brawl with any of the other boys. But then Radu shows surprising cunning as well; together these two form a formidable team that can manipulate events and people around them to get what they want.
I absolutely adored how none of the women in this book were stereotypical or two-dimensional. The cool thing is that Lada herself is actually a man in history,
Vlad the Impaler
. He's a terrifying person, one who enjoyed staking his enemies and inspired the Dracula myth. One of my favorite women was Mehmed's mother. She is a concubine and confined to her harem, but despite being physically sequestered and seemingly powerless, it quickly becomes clear that she is the one pulling all the strings. She will do anything to see Mehmed on the throne, and
her brand of strength and ruthlessness made a very interesting complement to Lada's. The two women have a lot in common, although neither will admit it.
Rich, lush writing, broken and brutal characters, a fascinating time period in history full of twists and turns. This book has it all!
A free e-ARC was provided by Netgalley in exchange for an honest review
.