Review: Half a King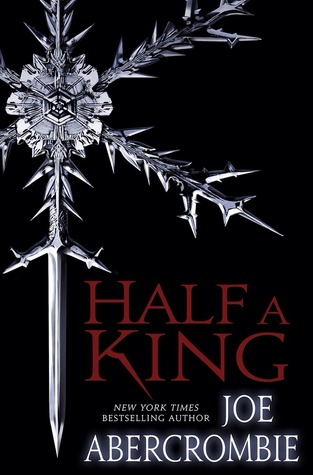 Title:
Half a King
Author:
Joe Abercrombie
Genre: Fantasy
My rating:
4 of 5 stars
Goodreads Summary:
Prince Yarvi has vowed to regain a throne he never wanted. But first he must survive cruelty, chains, and the bitter waters of the Shattered Sea. And he must do it all with only one good hand.

The deceived will become the deceiver.
Born a weakling in the eyes of his father, Yarvi is alone in a world where a strong arm and a cold heart rule. He cannot grip a shield or swing an axe, so he must sharpen his mind to a deadly edge.

The betrayed will become the betrayer.
Gathering a strange fellowship of the outcast and the lost, he finds they can do more to help him become the man he needs to be than any court of nobles could.

Will the usurped become the usurper?
But even with loyal friends at his side, Yarvi finds his path may end as it began—in twists, and traps, and tragedy.
I'd never read anything by Joe Abercrombie, but I had heard lots of good things about his books. I jumped at the chance to request this book, and I was really excited to read it. It has a very different feel than most fantasy - I think the cover captures the mood very well. It's very dark and melancholy, but never intensely so. It's kind of like a soft blanket of shadows, or a fluffy rain cloud - it's dark, but it has its softer moments.
Half a King features an interesting protagonist. Instead of the usual honorable or courageous hero, we have Prince Yarvi, a cripple. He'd rather learn and heal than rule, but when he betrayed and left for dead, he swears an oath that he will reclaim his throne.
"I may be half a man, but I swore a whole oath."
Yarvi must overcome all sorts of struggles, but not without some help. Life is hard, and the harsh nature of survival is never watered down. It was interesting to see how Yarvi gained the trust of others, and how their relationships shifted and grew over the course of the novel. You almost never know someone's true motives; this book is a complicated web of subterfuge and manipulation.
I really enjoyed the start of this series, and I look forward to more of Abercrombie's books!
*A free copy of this book was provided by the publisher via NetGalley in exchange for an honest review*