Review: The Secret Place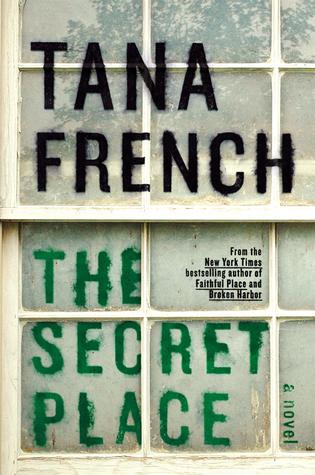 Title:
The Secret Place
Author:
Tana French
Genre: Mystery, psychological thriller
My rating:
4 of 5 stars
Goodreads Summary:
The photo on the card shows a boy who was found murdered, a year ago, on the grounds of a girls' boarding school in the leafy suburbs of Dublin. The caption says, I KNOW WHO KILLED HIM.
Detective Stephen Moran has been waiting for his chance to get a foot in the door of Dublin's Murder Squad—and one morning, sixteen-year-old Holly Mackey brings him this photo. The Secret Place, a board where the girls at St. Kilda's School can pin up their secrets anonymously, is normally a mishmash of gossip and covert cruelty, but today someone has used it to reignite the stalled investigation into the murder of handsome, popular Chris Harper. Stephen joins forces with the abrasive Detective Antoinette Conway to find out who and why.
But everything they discover leads them back to Holly's close-knit group of friends and their fierce enemies, a rival clique—and to the tangled web of relationships that bound all the girls to Chris Harper. Every step in their direction turns up the pressure. Antoinette Conway is already suspicious of Stephen's links to the Mackey family. St. Kilda's will go a long way to keep murder outside their walls. Holly's father, Detective Frank Mackey, is circling, ready to pounce if any of the new evidence points toward his daughter. And the private underworld of teenage girls can be more mysterious and more dangerous than either of the detectives imagined.
This is the fourth Tana French book I've read, and it's not my favorite of hers, but it's still excellent. Giving this book four stars is like me giving Scott Lynch's
Red Seas Under Red Skies
four stars. These author's other books are so flipping fantastic that I have to knock a star when they're just amazing.
In a nutshell,
a four star Tana French is probably a five star anyone else.
I was a little unsure about this book, since it focused on a year-old murder at a girls' boarding school instead of the usual recently discovered murder in some corner of Dublin. The girl who brings Stephen Moran onto the case is Frank Mackey's teenaged daughter, no less. The last time we saw Stephen and Holly was 7 years ago in Faithful Place, so I was unsure about how things would play out. At times it
was
a little dull getting through this book, since it takes place over 24 hours and involves a lot of interrogating. I mean, with a murder over a year old, there's not much room for investigation or working in the field.
Once things started taking shape, though, I couldn't put this book down.
The second half more than made up for the rocky middle.
This book makes me realize how much worse Lord of the Flies would have been if it had been an island of girls
. Girls are catty and spiteful, and very good at smiling sweetly while they are secretly planning to stab you in the back. We're very good at pretending and putting on faces, and it's much
much
worse when you're a teenager. Tana French captures all of that, but she also captures the firm conviction that friends we make in school are the people we will hold onto for all of our lives. Our friends are greater than our families, greater than first loves or anything else we have ever known. So how far would you go to protect that?
What's most frightening about this book is how believable it is.
It's just ordinary girls and accidents and drama.
There's no psychopath or criminal with a disturbed past.
There's a touch of the surreal, but only a touch, and that adds to the slightly eerie atmosphere.
I missed getting inside a detective's broken head. First we had Rob, dealing with the demons of his past. Then Cassie, trying to pick up the pieces and find herself even as she lost herself in someone else's life. Frank Mackey had to deal with his twisted family and face his fears. Scorcher Kennedy is a lonely soul who keeps his secrets locked up tight.
But Stephen Moran? He's just a new kid trying to make it big.
He's the friendly guy who gets along with everyone because he's very good at being who the other person wants him to be (sound like those teenage girls?). I was definitely rooting for Stephen, and I'll admit I was as charmed as everyone else, but I was slightly disappointed that we didn't find out more about him.
Another departure from the previous books is that this one also includes flashbacks from the girls' point of view. You see them lazily walking through life, drinking in the moment and shouting to the world that they can take on anything. It's beautiful, but also makes it even more painful when the truth comes out.
As with all Tana French books, I'd highly recommend this for fans of mysteries and fans of stories about real people.
Most of the time it's not about who the killer is; it's about how one event can deeply affect so many people, and how far people will go to protect the people they care about. This book is no exception.
*A free copy of this book was provided by the publisher via NetGalley in exchange for an honest review*