Review: Rogues Anthology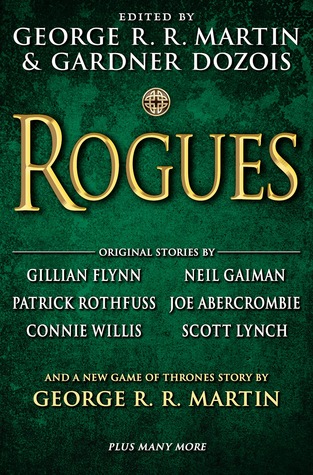 Title:
Rogues
Editor:
George R.R. Martin
Genre: Fantasy, science fiction, mystery, contemporary
My rating:
5 of 5 stars
Goodreads summary:
If you're a fan of fiction that is more than just black and white, this latest story collection from #1 New York Times bestselling author George R.R. Martin and award-winning editor Gardner Dozois is filled with subtle shades of gray. Twenty-one all-original stories, by an all-star list of contributors, will delight and astonish you in equal measure with their cunning twists and dazzling reversals. And George R.R. Martin himself offers a brand-new A Game of Thrones tale chronicling one of the biggest rogues in the entire history of Ice and Fire.
This is one of the best and most consistent anthologies I've ever read! Most anthologies have their gems and their disappointments, and a bunch of lukewarm stories, but this one was almost entirely enjoyable and the gems were some of my favorite stories by those authors. I started out listening to the audiobook for the first 5 stories, then lost patience and switched to a hardcover. Here are my two cents on each of the stories:
Tough Times All over
*****
Charming, full of dark humor and wit, and thoroughly entertaining, this story was one of my favorites of the anthology. It's trademark Joe Abercrombie, and I really enjoyed it, especially because of Gwendoline Christie's narration. There were so many colorful characters, and I can't wait to read more about Sipani (I really hope there's more Carcolf!)
What Do you Do
****
This story starts out kind of tongue in cheek and satirical, and ends up being a really creepy psychological thriller. The twisted characters and ick-factor and trademark Gillian Flynn.
Inn of Seven Blessings
***
Anthropomorphagi are out to eat people in this creepy story, and our hero is a thief who enlists the help of a luck god to save a few people. I'm not sure if it was the narrator or the story itself, but I zoned out through quite a bit of this one.
Bent Twig
- DNF
The narrator's accent put me to sleep, and when I tried rereading this story in the hardcover, I couldn't get the narrator out of my head. I just couldn't finish this story.
Tawny Petticoats
****
This starts out like a western, almost like Bonny and Clyde, but ends up being a very scientific zombie story. I loved how Tawny was such a badass, independent, and smart woman, and the ending had me laughing.
Provenance
****/
This one was slow to start but that ending nailed it! The story follows how a painting was lost and found, sold, and stolen. Max is more of a character than he lets on!
Roaring Twenties
****/
I thought the atmosphere of the twenties was excellent and I loved the colorful characters. Pauline and Madame M's partnership was great, and it was fun to watch them con people.
A Year and a Day in old Theradane
*****
Creepy statues and mythology, with a cast of vibrant and entertaining characters. In case you have ever wondered how to steal a street in a year and a day, this story will more than answer your question. Scott Lynch does not disappoint! I loved this one!
Bad brass
**
This was one of the few stories I didn't really like. It's a strange story involving band students and tuba thieves.
Heavy Metal
***
Interesting story where people call for help of the supernatural variety. I liked the unconventional main character, but the story was a tad too preachy for my taste.
The Meaning of Love
*****
Loved the world and the characters, and the writing was gorgeous too. I laughed and had my heart bruised. Asa's story was lovely, and I'm definitely going to look for more Daniel Abraham.
A Better Way to Die
****
This one had a really strong Doctor Who vibe :) It was slow to start but very compelling and intense, what with parallel universes and paradoxes.
Ill Seen in Tyr
****
This was a hilarious story set in an alternate timeline Greece/Rome and the magical misadventures of a duo. It's predictable, yes, but it's definitely still a lot of fun.
A Cargo of Ivories
***
Charming, but not super memorable. It involves the theft of ivory and some unexpected company along the way. I expected better from Garth Nix, but oh well.
Diamonds from Tequila
**
This was the other story I didn't care for. Maybe I just have something against contemporary stories? It's about the murder of an actress and the conspiracies behind it. It was kind of funny, but not hugely entertaining.
Caravan from Nowhere
****
Fantastic story about the mysteries of the desert and the price you pay for happiness. This definitely tugged on my heartstrings!
Curious Affair of the Dead Wives
***/
Sherlock Holmes adaptation. Sold. It borrowed that familiar set of characters and style of story telling, which I liked, but I felt like the creepy element wasn't explained all that well.
How the Marquis Got His Coat Back
*****
Neverwhere is my favorite Neil Gaiman novel, so obviously I loved this short story on how the Marquis got his coat back. It has all the fantastic elements of Gaiman's stories, with the added bonus of the enigmatic Marquis.
Now Showing
****
Funny science fiction/mystery story with tons of satirical pop culture references. Conspiracy theories abound!
The Lightning Tree
***/ I was on the fence about how I felt about Name of the Wind, and I kind of feel the same way about this one. This novella centers around what Bast does each day when Kvothe doesn't have tasks for him. Bast's major occupation is trading magical favors for secrets at the Lightning Tree. I loved the idea of the story, but there were a couple of things that rubbed me the wrong way, just like NotW.
The Rogue Prince
*** Fans of GRR Martin will love this. As for myself, I felt like it read like a history lesson instead of a story, and since it has been a while since I was in the ASOIAF universe, I had a hard time keeping track of who was who and how they were related to the characters of the main story.
I highly recommend this anthology for fantasy/speculative fiction lovers. The majority of the anthology
is
fantasy, but who can resist a loveable rogue in any genre?