Review: And The Mountains Echoed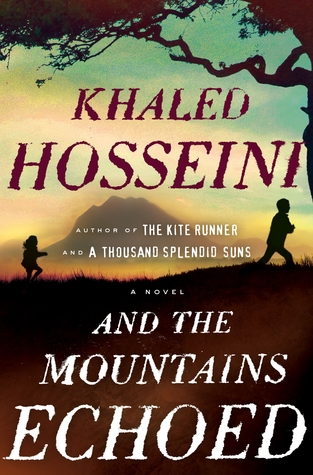 Title:
And the Mountains Echoed
Author:
Khaled Hosseini
Genre: Historical fiction, contemporary, adult fiction
My rating:
4 of 5 stars
Goodreads Summary:
An unforgettable novel about finding a lost piece of yourself in someone else.
Khaled Hosseini, the #1 New York Times–bestselling author of The Kite Runner and A Thousand Splendid Suns, has written a new novel about how we love, how we take care of one another, and how the choices we make resonate through generations.
In this tale revolving around not just parents and children but brothers and sisters, cousins and caretakers, Hosseini explores the many ways in which families nurture, wound, betray, honor, and sacrifice for one another; and how often we are surprised by the actions of those closest to us, at the times that matter most.
Following its characters and the ramifications of their lives and choices and loves around the globe—from Kabul to Paris to San Francisco to the Greek island of Tinos—the story expands gradually outward, becoming more emotionally complex and powerful with each turning page.
I liked this book more than
The Kite Runner
and less than
A Thousand Splendid Suns
.
This novel is a lot less urgent than the previous two, and part of it is that it takes giant leaps across time and space as the novel progresses
. It's an interesting way to tell a story; each chapter picks up with a less significant character from the previous one, continuing the overall story of Pari's family and the ramifications of one man's heartbreaking choice.
There were some stories that really stood out to me. I loved the chapter on Pari's uncle (blanking out on his name right now) and his relationship with his master over the decades.
It was beautiful and heartbreaking
, and you can almost excuse him for coming up with the Terrible Act that sets the rest of the story in motion. Almost. I also appreciated being able to see Abdullah and Pari's relationship as children and again in their later years.
Other stories seemed unnecessary. This isn't to say that they weren't poignant or beautiful, but they just didn't seem to have a place in this family's story. The two that come to mind are the chapter about the brothers with a serious case of sibling rivalry and the chapter about Markos and Thalia.
I really liked both stories, and both were definitely poignant, but this book was the wrong place for these stories to be told
. They made an already long book even longer and more tedious, and I felt like they would have been better off as short stories in their own right.
I'm a little annoyed that everything that could go wrong for this family did go wrong
. Is there no hope? Must tragedy always strike just when you think things are getting better? I suppose this is kind of the point; the war and the destruction of a homeland leaves marks on its people, even after they have left.
Read this book when you're in a contemplative mood, or on rainy days with a blanket and a warm cup of cocoa. It's not a particularly happy book, but it's beautiful and worth experiencing.