Review: The Blade Itself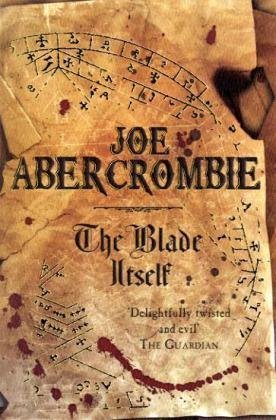 Title:
The Blade Itself
Author:
Joe Abercrombie
My rating:
4 of 5 stars
Goodreads summary:Logen Ninefingers, infamous barbarian, has finally run out of luck. Caught in one feud too many, he's on the verge of becoming a dead barbarian – leaving nothing behind him but bad songs, dead friends, and a lot of happy enemies.
Nobleman Captain Jezal dan Luthar, dashing officer, and paragon of selfishness, has nothing more dangerous in mind than fleecing his friends at cards and dreaming of glory in the fencing circle. But war is brewing, and on the battlefields of the frozen North they fight by altogether bloodier rules.
Inquisitor Glokta, cripple turned torturer, would like nothing better than to see Jezal come home in a box. But then Glokta hates everyone: cutting treason out of the Union one confession at a time leaves little room for friendship. His latest trail of corpses may lead him right to the rotten heart of government, if he can stay alive long enough to follow it.
Enter the wizard, Bayaz. A bald old man with a terrible temper and a pathetic assistant, he could be the First of the Magi, he could be a spectacular fraud, but whatever he is, he's about to make the lives of Logen, Jezal, and Glotka a whole lot more difficult.
Murderous conspiracies rise to the surface, old scores are ready to be settled, and the line between hero and villain is sharp enough to draw blood.
I was very pleasantly surprised by this book. It is definitely a set-up book, in that almost nothing happens in terms of plot, but the characters were all fantastic and I can't wait to keep reading.
Before this book, I'd only read Half a King by the same author. I heard it was a watered down version of Abercrombie in terms of grittiness and gore, and I can see why people said that. The thing about the grittiness and gore of this book is that it isn't
actually
that dark. I am one of those very faint of heart that feels nauseous whenever blood and gore comes up. I absolutely cannot stomach cruelty, especially not torture. And yet I was reading a torture scene in this book where a character is having his fingers chopped off, and I was
chuckling
.
This is the power of Joe Abercrombie. Yes, his books are dark and gritty and his characters are not afraid to get their hands dirty. Characters are all rather morally ambiguous, and I'd hesitate to call any one of them a hero or a good person at heart. But despite all this darkness, Abercrombie puts in plenty of humor and clever conversation to balance out the darkness.
My usual complaint with epic fantasy is that the women are either nonexistent or objectified. This book leans a bit towards the nonexistent side, but the few women who were present were certainly not objectified, and in fact had a lot more agency than some of the men. Abercrombie turns stereotypes on their heads throughout this book, what with a dark-skinned wizard who could pass for a butcher and a pretty girl who absolutely
isn't
fawning over the supposedly charming nobleman. I had a lot more to say about the diversity in this book, and you can read my DiverSFFy discussion post on it
here
.
As I mentioned earlier, the main characters are all unconventional and decidedly not heroic: a crippled torturer, a barbarian who just might be turning over a new leaf, and a vain fool of a nobleman. I enjoyed seeing how their lives crossed and how they changed (or didn't change) over the course of the book.
I am looking forward to seeing how this series plays out!