Review: A Conjuring of Light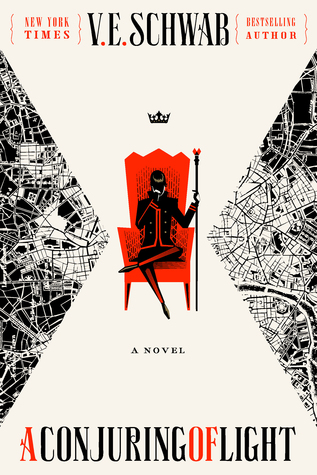 Title:
A Conjuring of Light
Author:
V.E. Schwab
Genre: Fantasy
My rating:
5 of 5 stars
Goodreads Summary:Witness the fate of beloved heroes - and enemies.
THE BALANCE OF POWER HAS FINALLY TIPPED...
The precarious equilibrium among four Londons has reached its breaking point. Once brimming with the red vivacity of magic, darkness casts a shadow over the Maresh Empire, leaving a space for another London to rise.
WHO WILL CRUMBLE?
Kell - once assumed to be the last surviving Antari - begins to waver under the pressure of competing loyalties. And in the wake of tragedy, can Arnes survive?
WHO WILL RISE?
Lila Bard, once a commonplace - but never common - thief, has survived and flourished through a series of magical trials. But now she must learn to control the magic, before it bleeds her dry. Meanwhile, the disgraced Captain Alucard Emery of the Night Spire collects his crew, attempting a race against time to acquire the impossible.
WHO WILL TAKE CONTROL?
And an ancient enemy returns to claim a crown while a fallen hero tries to save a world in decay.
Oh, my heart. This book was such a minefield, haven't had a book hangover like this since The Raven King.
This book will always be special to me because it was the book I took to my first signing. I'd never met an author or been to a book event before, and I was so happy that Victoria Schwab was my first! She was awesome in person, it's incredible how such a lovely person can inflict so much pain on her readers :) I loved hearing more about the writing process for these books, and it was interesting to think about questions I had never considered before ("Who's on the cover?" Mindbending when you find someone who can argue their way to a totally different person than who you thought). The best part was being in a room full of people who loved a book series as much as I did, and feeling absolutely no judgment about my fangirling :D
Okay, now to review the actual story. This book is absolutely gorgeously written, and I loved how the writing brought the multiverse of Londons alive. Each setting was truly a different character, and it was incredible to see how they each change from the catastrophes that occur. Speaking of catastrophes, this was a ridiculously painful book. I don't know about you, but after a certain level of pain and destruction, I start to tell myself, "Okay, things have to start getting better now. It can't possibly get worse than this." But when Victoria is in charge of the story, rest assured that just when you thought things couldn't get worse, she will make the story knock the breath out of you. Again and again.
As for the characters, these are some of my favorites. One of my friends recently asked me who my favorite female character in fantasy was (damn, what a broad question). I decided that my favorite was Lilah Bard. She's absolutely fearless, and she doesn't give a damn what other people think she should be doing. She follows her heart and doesn't let anyone or anything get in her way. Of course, I also loved Rhy, Alucard, Kell and his magical coat, and even Holland!
I don't know how to convey how gorgeous and rich and painful and emotional and hopeful this story is. I hope you will read it.