Review: The Emperor's Blades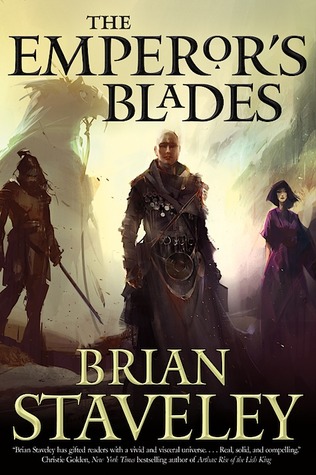 Title:
The Emperor's Blades
Author:
Brian Staveley
Genre: Fantasy
My rating:
5 of 5 stars
Goodreads Summary:
The Emperor has been murdered, leaving the Annurian Empire in turmoil. Now his progeny must bury their grief and prepare to unmask a conspiracy.
His son Valyn, training for the empire's deadliest fighting force, hears the news an ocean away. He expected a challenge, but after several 'accidents' and a dying soldier's warning, he realizes his life is also in danger. Yet before Valyn can take action, he must survive the mercenaries' brutal final initiation.
Meanwhile, the Emperor's daughter, Minister Adare, hunts her father's murderer in the capital itself. Court politics can be fatal, but she needs justice. And Kaden, heir to an empire, studies in a remote monastery. Here, the Blank God's disciples teach their harsh ways – which Kaden must master to unlock their ancient powers. When an imperial delegation arrives, he's learnt enough to perceive evil intent. But will this keep him alive, as long-hidden powers make their move?
One of the reasons I get annoyed when I read a bunch of fantasy novels in a row is that they often end up being loosely the same story over and over again. There is some sort of hero and some sort of deep dark evil and magical friends and foes that help the hero conquer all as s/he undergoes some sort of cathartic self-discovering journey. But this? This is definitely not one of those books.
The Emperor's blades is interesting in that it tracks the lives of three siblings in the wake of their father's death. Their father happens to be the emperor, and each of the three are scattered across different corners of the empire, and living completely different lives. It's almost like reading three different fantasy novels: one where the hero joins an order of monks and must discover something within in order to overcome external challenges, one where young men and women are trained to be assassins but must face rivalry and betrayal, and one where a woman must maneuver through political scheming to uncover the truth of what happened to her father.
Each of the characters was compelling in their own right. I wish I'd gotten to see more of Adare's POV and her dealing with politics, but I didn't feel like there was a lack of female characters in this book. There were a lot of badass and intelligent women training alongside Valyn to become Kettral; my problem was not that the women weren't present but that they were sometimes only there as eye-candy for the men (ahem Kaden and Valyn) or for the development the male characters.
I am mainly upset about the fact that Lin had to die in order to help Valyn grow...that whole awesome female character turned into a cheap way to help the men along . Hopefully that changes in book 2.
I do enjoy familiar elements in stories, and this definitely takes familiar elements of fantasy stories but puts them together in unexpected ways. I am very fond of stories that features siblings and friends front and center instead of romances, so I am excited to see what happens when these three siblings come together. As of the end of this book, it seems like the siblings may not be on the same sides of the many conflicts going on; I'm excited to see how this plays out.