Review: Blood Bound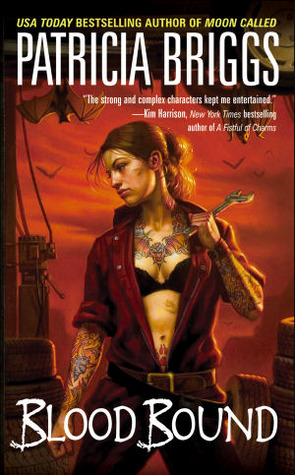 Title:
Blood Bound
Author:
Patricia Briggs
Genre: Urban Fantasy
My rating:
4 of 5 stars
Goodreads Summary:
Under the rule of science, there are no witch burnings allowed, no water trials or public lynchings. In return, the average law-abiding, solid citizen has little to worry about from the things that go bump in the night. Sometimes I wish I was an average citizen...
Mechanic Mercy Thompson has friends in low places-and in dark ones. And now she owes one of them a favor. Since she can shapeshift at will, she agrees to act as some extra muscle when her vampire friend Stefan goes to deliver a message to another of his kind.
But this new vampire is hardly ordinary-and neither is the demon inside of him.
creeeeepyyyy
I should have known from the title that this was going to be a bloody book! Thankfully the worst of it was over in the prologue (which I had to skim...I don't do well with blood and guts).
While we met the vampires in Moon Called, we didn't
really
get to know them. Now we get up close and personal with the vampires and their strange customs. If you thought werewolves were territorial and possessive... To make matters worse, there's a demon who can control vampires on the loose, causing chaos for all the humans and paranormal creatures alike.
This book could have been simply terrifying, but it's a lot of fun too! I was laughing so hard to see how Mercy and Samuel were adjusting as roommates. Mercy is supremely sassy, which is great, and despite her wall of sarcasm, it's great to see how much she actually cares about her friends.
I will definitely be reading more of this series!