Review: A Discovery of Witches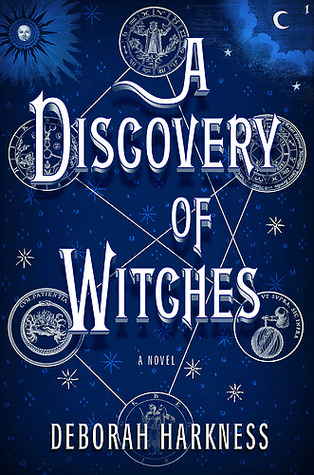 Title:
A Discovery of Witches
Author:
Deborah Harkness
Genre: literary fiction, urban fantasy
My rating:
4 of 5 stars
Goodreads Summary:Deep in the stacks of Oxford's Bodleian Library, young scholar Diana Bishop unwittingly calls up a bewitched alchemical manuscript in the course of her research. Descended from an old and distinguished line of witches, Diana wants nothing to do with sorcery; so after a furtive glance and a few notes, she banishes the book to the stacks. But her discovery sets a fantastical underworld stirring, and a horde of daemons, witches, and vampires soon descends upon the library. Diana has stumbled upon a coveted treasure lost for centuries-and she is the only creature who can break its spell.
Debut novelist Deborah Harkness has crafted a mesmerizing and addictive read, equal parts history and magic, romance and suspense. Diana is a bold heroine who meets her equal in vampire geneticist Matthew Clairmont, and gradually warms up to him as their alliance deepens into an intimacy that violates age-old taboos. This smart, sophisticated story harks back to the novels of Anne Rice, but it is as contemporary and sensual as the Twilight series-with an extra serving of historical realism.
This book has may sound like urban fantasy (witches and vampires hiding in plain sight in the modern day), but it reads like literary fiction that just happens to have witches and vampires in it.
I don't really know how to describe what kind of book this is, but I really enjoyed it and I'm looking forward to more!
A Discovery of Witches
mainly follows Diana Bishop as she comes to terms with her past and her important role in the future of magic. Diana comes from a long line of famous and powerful witches, and has seen firsthand how crazy magic users become. She tries her best to avoid supernatural creatures and almost never uses her magic. But one day, she accidentally discovers one of the most coveted treasures of the magic world: Ashmole 782.
No one can quite agree on what exactly is in the Ashmole manuscript, but everyone agrees that it is priceless and the power it could hold is unimaginable
.
Although the stakes are high, this is by no means an action-packed book.
It's very richly detailed and slow; it's all about getting to know the characters as slowly as they get to know each other.
I'll admit Matthew creeped me out as first, just like he did Diana, but after a while I loved him and I couldn't imagine ever thinking he had sinister intentions. I think Harkness does a great job of that with all her characters: first impressions aren't always correct, but we get plenty of time to learn more about each of the characters and revise how we look at them.
I did enjoy the care that went into portraying each nuanced character, but at times I felt like the detail was a little too much. Every single article of clothing in this book was detailed down to the color, fabric, and number of buttons, and the food was similarly catalogued. It felt slow at times; I didn't need to know every note of the 300-year-old wine Diana was drinking in order to picture that particular scene.
Even if this is a slow book, once things start happening, they really don't stop. I thought the resolution to the stories Diana's parents told her as a child was really well-done and and I am looking forward to seeing how things play out in book 2.