Review: ILLUMINAE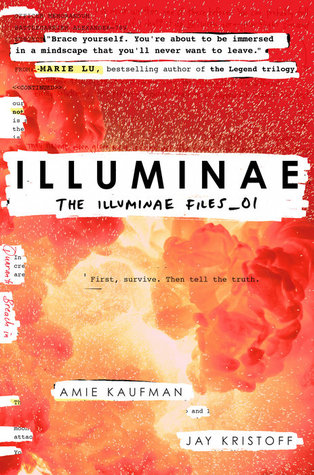 Title:
Illuminae
Author:
Amie Kaufman
, Jay Kristoff
Genre: Science fiction, young adult
My rating:
5 of 5 stars
Goodreads Summary:
This morning, Kady thought breaking up with Ezra was the hardest thing she'd have to do.
This afternoon, her planet was invaded.
The year is 2575, and two rival megacorporations are at war over a planet that's little more than an ice-covered speck at the edge of the universe. Too bad nobody thought to warn the people living on it. With enemy fire raining down on them, Kady and Ezra—who are barely even talking to each other—are forced to fight their way onto an evacuating fleet, with an enemy warship in hot pursuit.
But their problems are just getting started. A deadly plague has broken out and is mutating, with terrifying results; the fleet's AI, which should be protecting them, may actually be their enemy; and nobody in charge will say what's really going on. As Kady hacks into a tangled web of data to find the truth, it's clear only one person can help her bring it all to light: the ex-boyfriend she swore she'd never speak to again.
Told through a fascinating dossier of hacked documents—including emails, schematics, military files, IMs, medical reports, interviews, and more—Illuminae is the first book in a heart-stopping, high-octane trilogy about lives interrupted, the price of truth, and the courage of everyday heroes.
There are just so many good things to say about this book, I don't even know where to begin! I went into this book with really high expectations because of all the gushing from everyone I knew. I usually find that the hype makes me enjoy a book less because it'll be great but not
freaking fantastic
. This book is freaking fantastic.
Kady is such a badass. First of all, props for having the main character be a girl who loves to code and is really good at it. It's so great to see a main character who's a female engineer, because I'm a woman engineer and sometimes it's depressing how few of us there are (let's not even talk about women in STEM being included in fiction). Not only is she a great hacker, she is also amazingly resilient and resourceful, and when the entire world is collapsing around her, she finds a way to protect the people she cares about. And unlike most heroic main characters who save the day without a scratch on them, Kady has a lot of doubts and fears about what she's doing. People she cares about get hurt, and that really takes a piece out of her. Kady is just so
real
. I loved her!
I've been gushing on and on about Kady, but there were plenty of other great characters. Ezra is hilarious and it's clear he really cares about Kady. He does his best to make sense of his new situation and do what he thinks is right. And AIDAN. I never thought I would have so many emotions about a giant piece of artificial intelligence, but AIDAN really took me on an emotional roller coaster. AIDAN made me terrified, AIDAN made me laugh, AIDAN made me cry with sorrow and with empathy.
The cool thing about this book is that it is presented as a dossier of files collected by the Illuminae group. You get to know the characters through interview transcripts, video footage, chats, and journal entries. The whole book is structured in such an interesting way, and there are a lot of gorgeous spreads. This is one of those books where the way the words fit on the page is a form of poetry and adds so much more to the story the words are trying to tell.
Basically, if you've been living under a rock and haven't heard anyone telling you to go read this book
this instant
, this is me telling you to go read this book. Now.
A free ARC was provided by Knopf in exchange for an honest review