Review: Truthwitch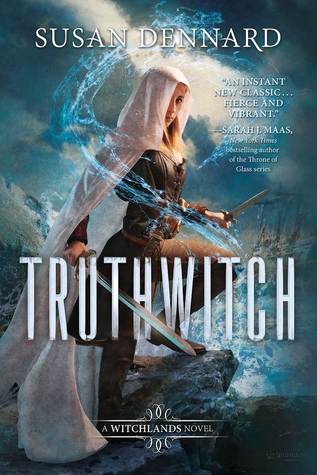 Title:
Truthwitch
Author:
Susan Dennard
Genre: Fantasy, YA
My rating:
3 of 5 stars
Goodreads Summary:In a continent on the edge of war, two witches hold its fate in their hands.
Young witches Safiya and Iseult have a habit of finding trouble. After clashing with a powerful Guildmaster and his ruthless Bloodwitch bodyguard, the friends are forced to flee their home.
Safi must avoid capture at all costs as she's a rare Truthwitch, able to discern truth from lies. Many would kill for her magic, so Safi must keep it hidden - lest she be used in the struggle between empires. And Iseult's true powers are hidden even from herself.
In a chance encounter at Court, Safi meets Prince Merik and makes him a reluctant ally. However, his help may not slow down the Bloodwitch now hot on the girls' heels. All Safi and Iseult want is their freedom, but danger lies ahead. With war coming, treaties breaking and a magical contagion sweeping the land, the friends will have to fight emperors and mercenaries alike. For some will stop at nothing to get their hands on a Truthwitch.
I had heard only good things about Truthwitch, and the premise sounded really interesting. I never thought about it before I read the blurb for this book, but
of course
someone who could parse the truth from the lies would be invaluable and of course every person with any shred of power would want to use that person for their own gain. I was very excited for the power struggles and how far people were willing to go to control a Truthwitch, but I was also excited to see how the truthwitch herself would fight becoming just a pawn. I guess my expectations were a little too high, because while there
were
power struggles and a rebellious truthwitch, neither of them were interesting enough to really capture my interest.
I usually love stories that revolve around friendship, and Safi and Iseult certainly have an epic friendship. I wanted so badly to root for them and love them as they supported each other through their own personal challenges, but somehow I felt like both girls were too childish for me to really care about them. Their conversations were like those of middle schoolers, and they just generally seemed very whiny and immature; Safi especially never seemed to grasp the gravity of their situation. I did like Iseult's complicated relationship with her mom, and Safi did grow more mature by the end of the book, but I honestly didn't care that much about either of them. Merik was a little more interesting, with his magic and his incredible loyalty to his people. I really loved his bond with Kullen, now THAT is a friendship worth rooting for.
The character I was most intrigued by was the supposed villain, the assassin monk Aiduan. He's the most tormented character, trying to figure out if one of his unshakable beliefs is in fact very wrong. He is terrifying and cunning, but he also has a strict moral code; he always pays his debts.
There are a lot of really cool things in this book in terms of the magic. There are witches of nearly any kind you can imagine, and Dennard cleverly comes up with ways each kind of witch fills a role in their society. I also liked the Voidwitch idea and how that connected to the Cleaving. I wish there had been a little bit more background or worldbuilding though, because at first it was hard to figure out how all these scattered magical concepts fit together.
I wasn't a huge fan of the characters and I didn't find the plot particularly amazing, but I did like the worldbuilding and I see a lot of potential for book 2 to step it up in terms of character development and raising the stakes. I'm hoping Windwitch is better than this one!