Review: All the Light We Cannot See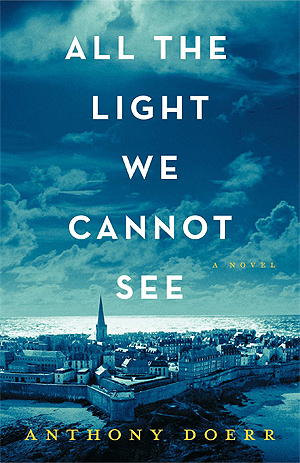 Title:
All the Light We Cannot See
Author:
Anthony Doerr
Genre: Historical fiction
My rating:
5 of 5 stars
Goodreads Summary:
From the highly acclaimed, multiple award-winning Anthony Doerr, the beautiful, stunningly ambitious instant New York Times bestseller about a blind French girl and a German boy whose paths collide in occupied France as both try to survive the devastation of World War II.
Marie-Laure lives with her father in Paris near the Museum of Natural History, where he works as the master of its thousands of locks. When she is six, Marie-Laure goes blind and her father builds a perfect miniature of their neighborhood so she can memorize it by touch and navigate her way home. When she is twelve, the Nazis occupy Paris and father and daughter flee to the walled citadel of Saint-Malo, where Marie-Laure's reclusive great-uncle lives in a tall house by the sea. With them they carry what might be the museum's most valuable and dangerous jewel.
In a mining town in Germany, the orphan Werner grows up with his younger sister, enchanted by a crude radio they find. Werner becomes an expert at building and fixing these crucial new instruments, a talent that wins him a place at a brutal academy for Hitler Youth, then a special assignment to track the resistance. More and more aware of the human cost of his intelligence, Werner travels through the heart of the war and, finally, into Saint-Malo, where his story and Marie-Laure's converge.
I haven't had the greatest track record with Pulitzer-prize winning books. I usually find them either really dull and boring or really pretentious and over-my-head. I had sort of resigned myself to not picking up any more Pulitzer books because I figured I wasn't going to enjoy them, but my uncle convinced me that this one was worth reading. I'm really glad he did, because I loved this book! I really enjoy historical fiction, especially stories about the world wars because they always seem to showcase the resilience and strength and beauty of the human spirit in terrible circumstances. This book was no exception.
All the Light We Cannot See is a gorgeously written book. The words are simple, but every single word is selected and arranged with so much care. This is one of those books where you know every sentence, every word was included for a purpose. There were so many references to light and blindness, seeing and darkness, and they all wove this beautiful story together with so many things to think about.
This book is terribly sad. I cried at least three times, and it was because I cared about the characters so much that I was really upset when terrible things happened to them. It wasn't even the main characters, I cried for secondary and peripheral characters too. It was interesting to see the conflict of WWII from two different sides, from both Marie-Laure's and Werner's points of view. They don't even meet until near the end of the book but their actions and lives to intersect and influence one another in unexpected ways. That sort of unpredictable yet undeniable connection between two people is one of the most beautiful parts of this book.
I liked how this book was focused on the characters and their childhood as much as it was focused on the grand scale of the war. I always like small-scale, personal stories that illustrate the effects of something huge and vast; sometimes it's just so hard to comprehend the complexities of something so monstrous and big as a world war, but when you see its effects on one little girl you are moved to tears.