Review: Now I Rise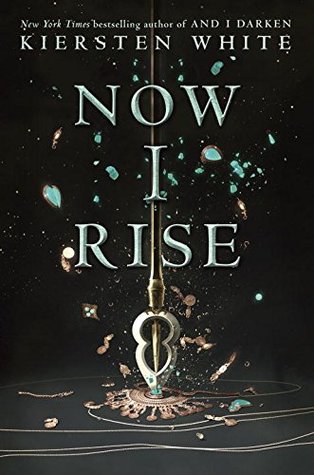 Title:
Now I Rise
Author:
Kiersten White
Genre: Historical fiction
My rating:
4 of 5 stars
Goodreads Summary:She has no allies. No throne. All she has is what she's always had: herself.
After failing to secure the Wallachian throne, Lada Dracul is out to punish anyone who dares to cross her blood-strewn path. Filled with a white-hot rage, she storms the countryside with her men, accompanied by her childhood friend Bogdan, terrorizing the land. But brute force isn't getting Lada what she wants. And thinking of Mehmed brings little comfort to her thorny heart. There's no time to wonder whether he still thinks about her, even loves her. She left him before he could leave her.
What Lada needs is her younger brother Radu's subtlety and skill. But Mehmed has sent him to Constantinople—and it's no diplomatic mission. Mehmed wants control of the city, and Radu has earned an unwanted place as a double-crossing spy behind enemy lines. Radu longs for his sister's fierce confidence—but for the first time in his life, he rejects her unexpected plea for help. Torn between loyalties to faith, to the Ottomans, and to Mehmed, he knows he owes Lada nothing. If she dies, he could never forgive himself—but if he fails in Constantinople, will Mehmed ever forgive him?
As nations fall around them, the Dracul siblings must decide: what will they sacrifice to fulfill their destinies? Empires will topple, thrones will be won…and souls will be lost.
I never found the era of Constantinople and the rise of the Ottoman Empire to be particularly interesting, so I am honestly amazed by how much this story made me want to find out more about this time period in history. As in the first book, the three main characters are very compelling, with even more complicated and tangled personal and political relationships. I loved seeing how people reacted when their personal and political loyalties were in conflict, it makes for very interesting insight into what is most important to that character.
The first book was mainly Lada's story, but this one seems to focus more on Radu. Lada has left Mehmet on her quest to reclaim Wallachia, but things aren't as straightforward for an ambitious woman compared to a man with the same goals. I loved how Lada's lust for power and drive to be a leader in her own right were portrayed; she's flawed and proud and sometimes naive, but she is also fearless and will not step down because she doesn't meet men's expectations of who a woman should be. I also loved that she had more interactions with other women in this book.
Radu's story stole the show for me! He is still confronting his feelings about Mehmet and weighing them against his political usefulness. Radu has to make a lot of hard choices, and without Lada to help him out, he really comes into his own as a leader. He does have Nazira though, and she is easily one of my favorite characters in this series. She is intelligent, compassionate, and incredibly courageous. She is an invaluable asset to Radu, but she's also just such a lovely person and I was rooting for her happy ending the entire time. The second half of the book, which puts Radu and Nazira in an entirely new environment, was so emotionally painful! I didn't know who to root for, and it felt like no matter how things turned out, I would be really upset.
I was so captivated by the rich world and intriguing, flawed characters and their messy relationships in book 1, and I was worried that the second book wouldn't have too much more to add. I was sorely mistaken, and I really enjoyed seeing all the new layers to our characters and their political machinations. This book raised the stakes immensely without feeling like a "middle book", but I cannot wait to see how things play out in book 3!