Review: Strange the Dreamer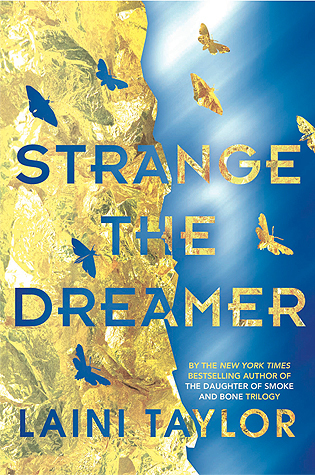 Title:
Strange the Dreamer
Author:
Laini Taylor
My rating: 3.5
of 5 stars
Goodreads Summary:The dream chooses the dreamer, not the other way around—and Lazlo Strange, war orphan and junior librarian, has always feared that his dream chose poorly. Since he was five years old he's been obsessed with the mythic lost city of Weep, but it would take someone bolder than he to cross half the world in search of it. Then a stunning opportunity presents itself, in the person of a hero called the Godslayer and a band of legendary warriors, and he has to seize his chance or lose his dream forever.
What happened in Weep two hundred years ago to cut it off from the rest of the world? What exactly did the Godslayer slay that went by the name of god? And what is the mysterious problem he now seeks help in solving?
The answers await in Weep, but so do more mysteries—including the blue-skinned goddess who appears in Lazlo's dreams. How did he dream her before he knew she existed? And if all the gods are dead, why does she seem so real?

Welcome to Weep.
I fell in love with Laini Taylor's DoSaB trilogy because of her magical ability to pick the perfect words to make even the most mundane situations seem gorgeous. Her prose is so unique and beautiful, and that prose is in full force in Strange the Dreamer. It was even better with an excellent narrator, Steve West, reading the story out loud. I also enjoyed DoSaB better on audio than with the paper book; maybe her writing style is more immersive and beautiful to me when someone is actually
telling
the story.
As with DoSaB, Strange the Dreamer is full of whimsical worlds and magic known only to a secret few. There are gods and humans who are each flawed and have bad blood between them. There are complicated families, found families, incredible friendships, despicable human beings, and excellent descriptions of food. I really loved the world of this story, especially as we slowly unearthed the history of what happened to the gods and their children.
All the characters were very well-sketched out and memorable as well. Ironically, I don't remember her name except that it started with an M - the child who controlled ghosts - was the most mercurial and terrifying character in the book. It's pretty incredible when an author can make your skin crawl every time a six-year-old makes an appearance (even if she's not
actually
six). Sarai was incredible as the Queen of Nightmares - torn between wanting justice for the atrocities committed against her people by the humans and wanting to understand the humans whose dreams she inhabits. She was vulnerable yet loyal and committed to helping everyone she loved. Lazlo was endearing, of course, with his broken nose and his incessant curiosity. I also really liked all the secondary characters.
So it seems like I can't stop gushing about how amazing this book was, so why only 3.5 stars? The book takes
forever
to get on its feet. The true plot doesn't begin until nearly halfway through the book, and as much as I loved getting to know the characters and world, I felt like all those details were preventing the plot from progressing for much of the book. The ending was spectacular, however, and full of twists and heart-stopping moments.
I definitely recommend this for fans of Laini Taylor, and for anyone else interested in immersing themselves in a lushly written fairy-tale world tinged with more than a little bit of darkness and pain.