Review: A Court of Thorns and Roses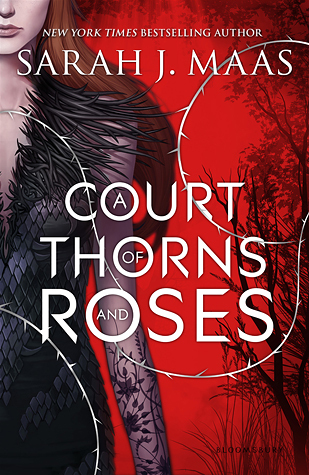 Title:
A Court of Thorns and Roses
Author:
Sarah J. Maas
Genre: Fantasy, adult
My rating:
4 of 5 stars
Goodreads Summary:
When nineteen-year-old huntress Feyre kills a wolf in the woods, a beast-like creature arrives to demand retribution for it. Dragged to a treacherous magical land she only knows about from legends, Feyre discovers that her captor is not an animal, but Tamlin—one of the lethal, immortal faeries who once ruled their world.
As she dwells on his estate, her feelings for Tamlin transform from icy hostility into a fiery passion that burns through every lie and warning she's been told about the beautiful, dangerous world of the Fae. But an ancient, wicked shadow grows over the faerie lands, and Feyre must find a way to stop it . . . or doom Tamlin—and his world—forever.
Perfect for fans of Kristin Cashore and George R. R. Martin, this first book in a sexy and action-packed new series is impossible to put down!
Well, this was fun! :)
Sarah J Maas convinced me to always give books the benefit of the doubt, because although I didn't like Throne of Glass, the next books sucked me in and suddenly I loved all the characters and the story and the world and...well, everything! I was very excited about ACOTAR, especially with all the hype.
I did really enjoy this book, but I don't think it was as FREAKING FANTASTIC as the blogosphere made it out to be. For one thing, I didn't think the curse was so terrible (oh woe is me, I have a beautiful mask glued to my face for eternity. The horror). I do see how having your magical powers stripped away can be terrifying, but I felt like everyone kept making a big deal about the masks. Feyre kept wanting to see the face under the mask, Lucien made poetic speeches about how awful it was to not be able to take off the mask...come now, that's not exactly a terrible disfigurement.
I also didn't think the world was as rich and nuanced as that of Throne of Glass. Here we have seven Fae kingdoms, and the Fae creatures are shown to be beautiful and terrible and all that jazz, but there wasn't anything really new. This world stuck to a rather traditional Fae world, and I was expecting more from SJ Maas.
Now for things I did enjoy! I loved Feyre's fighting spirit and how she put her family first even if they were awful to her. That's not to say that she bore it like a Mary Sue; she knew they were awful, and resented them a little, but she decided that keeping her word to her dying mother was more important than her personal feelings. That just goes to show you how stubborn Feyre is, and I loved her stubbornness at the end of the book (damn, this girl is badass!).
I think everyone and their mother is swooning over Tamlin, and although I wasn't swooning, I did really like his banter and relationship with Lucien. The two of them were quite a pair: one always serious, the other always snarky, but both of them deeply hurt and trying really hard not to let it show. Even if the world wasn't as nuanced as her other series, SJ Maas is a master of creating complex characters, and ACOTAR is no exception!