Review: Lair of Dreams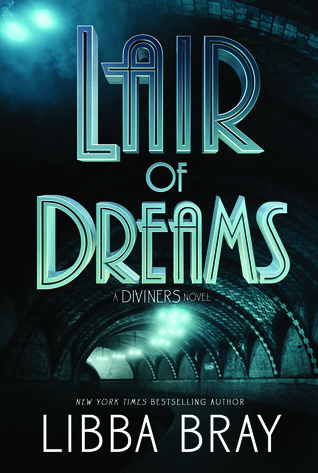 Title:
Lair of Dreams
Author:
Libba Bray
Genre: Historical fiction, fantasy, mystery, suspense
My rating:
4 of 5 stars
Goodreads Summary:
After a supernatural showdown with a serial killer, Evie O'Neill has outed herself as a Diviner. Now that the world knows of her ability to "read" objects, and therefore, read the past, she has become a media darling, earning the title, "America's Sweetheart Seer." But not everyone is so accepting of the Diviners' abilities...
Meanwhile, mysterious deaths have been turning up in the city, victims of an unknown sleeping sickness. Can the Diviners descend into the dreamworld and catch a killer?
Not as bone chillingly creepy as book 1, but still plenty of fun!
My favorite thing about The Diviners wasn't the world, although combining the Roaring Twenties with the occult and supernatural was definitely a big plus. My favorite thing was how we got to know so many different characters so well, and how they were all from completely different walks of life. Each of the characters had a distinct personality, complete with hopes and fears and dreams. It's rare that multiple MCs are all fully fleshed out, but Libba Bray is outstanding at making a huge cast of characters feel real and relatable.
All the characters I loved in The Diviners have to deal with the scars of book 1. Evie decides to throw herself into the superficial world of being a radio starlet, while Jerico continues to struggle with his secrets alone. Sam is hell-bent on finding out his mother's secrets, Theta is busy trying to keep Henry safe, and Memphis continues to fight to keep his little brother safe. Henry loses himself further and further in a dream world, but he's not the only one who can walk in dreams.
I really liked the addition of Chinatown to the mix, because it brought even more historical authenticity and diversity to an already quite diverse cast of characters without it feeling forced. I don't know if it's because I grew up in a predominantly Asian neighborhood, but I could relate a lot to Ling and her overbearing parents. I also appreciated how racism of every kind was acknowledged in this book, from the sidelong glances at a black young man holding hands with a white girl to the humiliating taunts and stereotypes associated with whole neighborhoods to racial violence. Libba Bray certainly doesn't shy away from portraying the ugly side of the world!
One of the best parts of this series is that it reminds you that no matter what you're struggling with or how lonely and lost you feel, you're never alone. The Diviners may all have supernatural powers of some kind, but at their heart they are just a bunch of young people trying to make their way in a rather unforgiving wide world. Their friendships and changing relationships were a treat to read about, and it made me even more thankful for the lovely friends in my own life! I am a sucker for books that feature strong friendships, and this book had that in buckets.
I really enjoyed this historical fiction/mystery/fantasy book and I can't wait for more!
*An ARC was provided by the publisher via Netgalley in exchange for an honest review*